When you buy redwood from Redwood Lumber & Supply Company, LLC, you not only get the finest quality redwood products, you get the best customer support in the business. Don't take our word for it, see what our customers have to say...
Redwood Service Testimonials
Redwood Lumber & Supply Company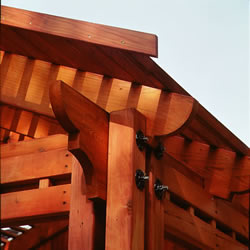 Keith & Steve,
Thank you for your outstanding attitude, professionalism and follow through. It was a pleasure doing business with you.
David M, Carmel, CA.
Keith,
I have to tell you how gorgeous the redwood is. It arrived in perfect condition and, sadly, I had to send it off to the trim carpenter yesterday. I absolutely would not have been able to get that quality in Texas. The trim guy was amazed at how clean it was and said it will work perfectly to replace our doors. I can't thank you enough for the energy it took to get this small order executed.
You guys are the best!
Holly H, Colleyville, TX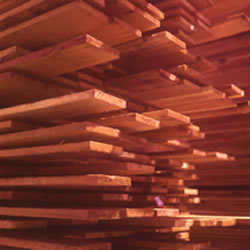 Paul and Keith....
I just wanted to let you know that we picked up the siding at San Carlos, Monday the 16th. I was really impressed on the professionalism of how the siding was packaged. The product was beautiful. We have about half the siding up already and it fits perfectly. Thanks again for outstanding service and a quality product.......
Thomas H, San Francisco, CA
P.S. I am quite sure that Bill will send business your way in the future. He has been spreading the word on the outstanding job your organization did for my needs......
Hello Keith.
I've just finished installing the siding I received from you and wanted to let you know how pleased I am with the product and the service. The order arrived at the border within 5-6 days. The siding is exactly what I ordered and then some. I think it has less knots than the original. You did what you said when you told me that you could do an excellent job for me. I am very satisfied with our transaction and would not hesitate to recommend you to anyone in the market for quality redwood. Thank you Keith. It's been a pleasure dealing with a professional.
Cliff B, Grand Portage, MN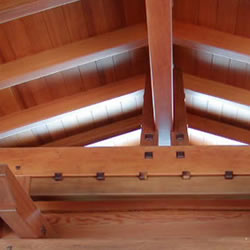 Keith,
Enclosed please find a check from... I can't emphasize enough how pleased we all were with the redwood you provided.
Thank you,
Dale M & Charles M, General Contractors, Mill Valley, CA
Keith, Paul & Steve,
The redwood siding made it safely to Hailey, Idaho. I would like to thank you and the staff at the Healdsburg manufacturing site for the excellent service. All staff was courteous and professional. For me it was a wonderful experience, and I certainly will recommend your company to anybody that is interested in redwood products. It is refreshing to see a company demonstrating how customer service should be executed!!
I hope you have a wonderful spring (finally) and great summer.
With best regards,
Peter S, Hailey, ID
Keith: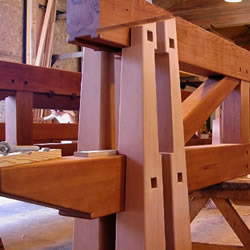 I received 3 of the 4 units yesterday and the stuff is beautiful. Never seen so much vertical grain all at once. 98% of it is all more than 20 rings per inch. Wow!
Thanks again.
Fritz, Oahu, HI
Thank you, Keith !
I received 414 lineal feet and 32 lineal feet of redwood in fine condition. My compliments to a job well done!
Peter M, Westport, CT
Keith-
Thanks for the great redwood!  The job worked out well.  Now I have another project I need you to quote ...
Darrell P, Berkeley, CA
Steve,
I wanted to thank you for the redwood.  It worked great repairing our cooling towers here at the plant.  Thanks again. 
Tom P. Willmington, DE
Dear Keith:
The redwood is beautiful and I thank you and your company for the service you provided. My original dock and garden, designed by Landscape Architect John Herbst, Jr., was featured in Sunset magazine in 1978. I am hoping that Sunset may feature the redesign. It is the most beautiful dock on the entire 3 1/2 mile lake.
Mary G, Lake Oswego, OR
Hi Keith,
The lumber I picked up looks great! Thank you. I would like some info and a quote on the following items I need to complete my building supplies list.
Chris B, Danville, CA
Keith,
Thank you very much for the quote. That was quick! You exceeded my expectations of timeliness and price. . . . you will be hearing from me for my next two projects this summer. Thank you again for your time.
Until then,
Shalin R, - Riverside, CA
Keith -
Just a note to say thank you for processing the order quickly and accurately. The wood looks great - just what I wanted. Again - Thank you!
Steve G, Idaho Falls, ID
Hi Keith,
The lumber arrived yesterday and looked great, very nicely packaged. I have another inquiry. . . .
Dave K, - Shelbyville, KY
Hi Steve,
I got my order yesterday. The stuff looks great. Thanks for all your help.
Jeff W, Santa Clarita, CA
Keith,
The beautiful redwood was delivered on Monday. It was wonderfully packaged and everything arrived in good shape. . . Once this big project is finished I have some smaller ones in mind now that I have seen how beautiful this wood is.
David D, Riegelsville, PA
Steve & Keith,
Wanted to let you know the lumber came yesterday. Can't wait to get started on these doors now. This redwood is beautiful!! Thank you for your interest in my project. I think my customer will be extremely happy when it's all finished.
Fred B, - Garwood, NJ
Keith,
Wood arrived safe and sound, looks beautiful!
Cheers,
Malcolm W, - Cape Elizabeth, ME
Redwood Lumber Contact
Keith Kersell
Redwood Lumber & Supply Company, LLC
523 Fourth Street
San Rafael, California 94901
phone: 800.435.1236
phone: 415.492.0500
fax: 415.492.0505
email: keith@redwoodlumberco.com
Call for a Redwood Price Quote
Our focus on excellent service is unsurpassed. At our 20-acre manufacturing facility we carry a multi-million board-foot inventory of dry redwood, which allows us to prepare most redwood orders—including custom redwood siding patterns—within two weeks from the date of order. Orders are often ready sooner. Whether it's one special redwood beam, board or timber or a truckload, our knowledgeable staff works hard to assure that you obtain the highest possible quality—and that you receive your redwood lumber on time, as promised. Call us at 800.435.1236 or 415.492.0500 with a description of your redwood needs and we'll respond promptly with a redwood price quote.