Redwood Lumber & Supply Company offers a wide variety of standard redwood mouldings (see our catalog). This includes hand rail, gutter stock, chair rail, crown, cove, water table and many more.
-Redwood Mouldings-
Our standard patterns are typically stocked in grades of Clear All Heart and/or Clear, but we can provide you with a variety of suitable grades for almost any circumstance. We offer the highest quality stain grade to the most economical paint grade - and every grade in between. This includes the option of Clear All Heart vertical grain. For more information on redwood grades see Redwood Grades and Uses from the California Redwood Association.
Remodeling? Adding on? Need to match an existing pattern? We specialize in helping you match existing moulding patterns and can usually assist with even the most difficult situations. We like a challenge! All we need is a precise drawing, or a sample from the job, to help you complete the task well.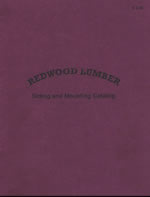 Our moulding catalog shows
many of the contemporary and historic
redwood lumber patterns we produce.
-Call for a Redwood Price Quote-
Our focus on excellent service is unsurpassed. At our 20-acre manufacturing facility we carry a multi-million board-foot inventory of dry redwood, which allows us to prepare most redwood orders—including custom redwood siding patterns—within two weeks from the date of order. Orders are often ready sooner. Whether it's one special redwood beam, board or timber or a truckload, our knowledgeable staff works hard to assure that you obtain the highest possible quality—and that you receive your redwood lumber on time, as promised. Call us at 800.435.1236 or 415.492.0500 with a description of your redwood needs and we'll respond promptly with a redwood price quote.