Here are answers to some of our most frequently asked questions. If your question isn't listed here, feel free to call or email us.
Will you take small orders for redwood products?
Yes, we have one of the smallest minimum order policies in the industry. We will work with you whether you want one piece or an entire truckload. We'll get you the high-quality redwood you need as long as it's economically feasible.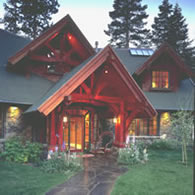 -Call for a Redwood Price Quote-
Our focus on excellent service is unsurpassed. At our 20-acre manufacturing facility we carry a multi-million board-foot inventory of dry redwood, which allows us to prepare most redwood orders—including custom redwood siding patterns—within two weeks from the date of order. Orders are often ready sooner. Whether it's one special redwood beam, board or timber or a truckload, our knowledgeable staff works hard to assure that you obtain the highest possible quality—and that you receive your redwood lumber on time, as promised. Call us at 800.435.1236 or 415.492.0500 with a description of your redwood needs and we'll respond promptly with a redwood price quote.